GUAYUSA
A plant native to Ecuador's upper Amazon that holds a special place in traditional Naporuna Kichwa culture.
Its stimulant effect comes from naturally occurring caffeine. Guayusa also provides a rich array of antioxidants, high in chlorogenic acid, a polyphenol antioxidant that can enhance cognitive performance, mood, motivation, and overall gaming achievement.
Guayusa contains no tannins, needing less or no sweeteners.
Next Generation of Caffeine
VANILLA
Our Amazonian premium vanilla enjoys a careful organic cultivation in traditional, multicrop agroforestry systems. It has a rich exotic flavor and comes in Grade A gourmet quality.
Thanks to an ideal climate and the rich fertile soil of the Ecuadorian rainforest, our vanilla beans have an exceptionally high vanillin content of up to 4% and outstanding aromatic qualities.
Since our vanilla orchids grow in a symbiotic relationship with endemic trees, our agroforestry model not only discourages deforestation but also incentivizes the cultivation of thousands of additional trees.
Three annual harvesting seasons provide local Kichwa farmers with a stable financial income throughout the year.
The Ecuadorian Queen of Spices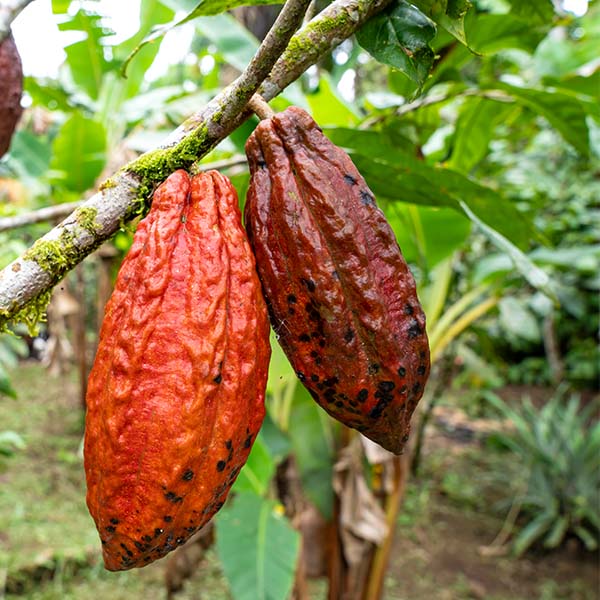 CACAO
Our cacao is produced in small plots in rich Amazonian soil – the same soil where wild cacao was first discovered over 5,000 years ago. We use regenerative and sustainable practices to grow a nutrient-rich product that is better for you and better for the earth.
Our cocoa is enzymatically fermented and dried to guarantee a perfectly balanced rich gourmet aroma to produce the highest quality Dark Chocolates.
Food of the Gods
GREEN PLANTAINS
Amazonian Alliance green plantains are responsibly and ethically grown and sourced and are grown on small, family-owned plots that help ensure higher levels of nutrients for you and healthier soil for the earth.
Considered a superfood, green plantains boast more than twenty times the amount of vitamin A, about three times the vitamin C, twice the magnesium, and almost twice the potassium as the common banana. It is no wonder this crop has been adopted by so many cultures around the world.
Green Plantain Superfood
COFFEE
Our Upper-Amazon coffee beans have rich exotic flavors and come in Grade AAA gourmet quality.
Thanks to an ideal climate and the rich fertile soil of the Ecuadorian rainforest, organically grown coffee beans from the higher elevations of the Napo region, tend to have a sweeter, softer taste, with tons of sugar, fruit, and berry flavors.
Arabica and Robusta
YHU.life works passionately to merge the best of nutritional, organic ingredients into products to enrich your diet, while creating a reciprocal relationship with people who have been the gate keepers of time honored traditions deep within our country for the benefit of generations to come.
Certificates